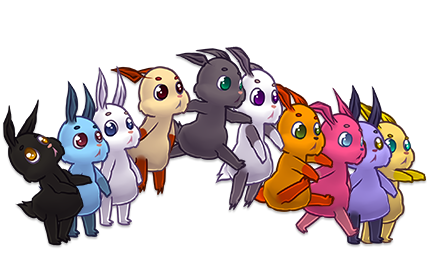 Fluffy Animals
A downloadable asset pack for Windows, macOS, Linux, and Android
A sprites pack that will feature animals on two legs running and fighting.

Spine PRO is required to open the standard file, but an ESS version is being provided too. In case you want to use just the spritesheets a Spine license is not necessary.

Controls:
Left and Right arrow to move. Hold Ctrl to run. Up to jump. Down to push.
Features:
Very light and fluid Spine File
Change color of each part by code
10 premade skins for bunny character
Spritesheets for those of you without a spine licence in single images and atlases
Original PSD
Now available:
Animations Available:
Idle
Idle - glaring at user
Walk
Walk - with blinking
Run
Jump
Push/attack
Hit
Death
Turn
Yes, you can suggest animations.

Purchase
In order to download this asset pack you must purchase it at or above the minimum price of $5 USD. You will get access to the following files:
bunny-spine-use-in-game.zip
293 kB
bunny-character-atlases-0.3.zip
40 MB
bunny-single-images-0.3.zip
61 MB
spine-editable-file.zip
275 kB
if you pay $9 USD or more
Comments
Log in with itch.io to leave a comment.
I love it would like to see more so I could make a complete game.
EDIT: more characters that is!
Hello,
I downloaded this awesome bunny but I get an error when opening the bunny-spine-editable-file.zip file in spine 3.7.91 (ESS).

The project was loaded with the following warnings
Removed duplicate attachment: [slot: ...]
It loads the head, arms and tail but no ears, legs or body.
Maybe it's because the project file is outdated, or because some required features are not available in the essential edition. Please update the zip or note that it requires spine pro.
Deeply sorry for having you wait so much! I saw your comment on the Spine forum today, (after getting back from a small pause from work!) and updated the files to include an ESS version. The reason you saw them missing was because they used PRO features such as meshes.
The project is indeed outdated, and It would be best to redo it from scratch at this point, there's some interesting new features like skin bones that would finally enable adding different tails, wings, and whatnot which is the big missing feature that stalled me, as well as the possibility to add new skins. I'll try to make some space to develop this nicely and restructure it from the ground up as it deserves.
Thanks for the reply.
An updated bunny pack would be awesome! Other fluffy animals too :)))
Hi erikari! Are you still planning to add the other animals like the description says? Any word on when the rest will be ready? It has been a long time since you posted anything. :o
I am particularly looking forward to the tiger. The bunnies are super cute, but this pack would have a lot more potential if the other animal types could meet/chat/interact with them, or go on fluffy adventures together!
If you are still open to suggestions, I think a hawk/eagle, a song bird, and maybe some sort of lizard or fish based animal would help round out the collection of little animal things. :)

Crouching/Ducking/Hiding animations would be cute too. Maybe they could crouch down and crawl along the ground to sneak under things.
Oww I thought nobody was using this and left it aside!!

So much time has passed that I'd redo it a little differently too now, but would you be ok with me changing them?
I'd redo the art, the Spine file, and probably also some animations (I regret not giving them knees) what do you think?

Thanks so much for the suggestions, I had no idea >.< I'll try to find some time and update it a little!
Also I'm so sorry, I saw this comment completely randomly because I got a mail from itch.io regarding CSS, I would have replied earlier otherwise >.<

TLDR: I wouldn't mind the delay at all! Take your time! :)
I'm still in the planning phase for what I am using them for.
So far, I'm thinking it will be some sort of puzzle/platform game where the player interacts with the level (or maybe leaves guide commands for them to follow) to guide the animals through. I'm envisioning each of them having some special power or interaction, like maybe the bunnies can jump an extra space further/higher for example. Maybe even interacting with each other, so like tigers would scare bunnies allowing them to turn around. Nothing too violent though, they are all much too cute for that. They will all be friends and help each other, even if a bit unwittingly in some interaction cases. ;)
But I need to find time to code it first, and nail down their abilities. I think the end result would be very cute and hopefully fun to play. But I have a lot more coding and planning to do before I can show anything, and it's a bit of a side project for now. Life has not been kind to my free time lately.

So yes, if you need to take the time to start the project over to make them better, I totally understand! It would all be for the better for everyone!